Human culture has been deeply interested in murder and the macabre since our ancient ghost stories and monster tales. We've since made celebrities of our real-life serial killers. With the recent release of Lars von Trier's The House That Jack Built (2018), which can be seen as a much longer, artier version of Mary Harron and Guinevere Turner's adaptation of American Psycho (2000), and Joe Berlinger's Ted Bundy-inspired Extremely Wicked, Shockingly Evil, and Vile (2019), our fascination doesn't seem to be waning any time soon.
"Running amok is a way of re-establishing one's reputation as a man to be feared and respected," writes Franco "Bifo" Berardi in Heroes: Mass Murder and Suicide (Verso, 2015), "but is also a way of escaping the world when life has become intolerable, and generally culminates in suicide" (p. 55). We romanticize both aspects of this killing instinct, the nihilistic power-grab and the ultimate escape. It's a middle finger to everyone near and far, a fuck-the-world on both the grandest and the most intimate scales.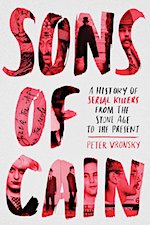 In Sons of Cain: A History of Serial Killers from the Stone Age to the Present  (Berkeley, 2018), Peter Vronsky traces this long history to find out why Western culture is so captivated by killers. Vronsky is steeped in the dark depths of murderers. His last two books were Serial Killers: The Method and Madness of Monsters (Berkeley, 2004) and Female Serial Killers: How and Why Women Become Monsters (2007), so he's better equipped than most to investigate this phenomenon. In Sons of Cain, he goes not only further back in time but also beyond just the murderers to the torturers, cannibals, and necrophiliacs—The Evil Elite. From ancient fictions and fairy tales to FBI profiling and forensics, Vronsky uses all of the tools available.
Taking views outside the methods of criminology, Serial Killing: A Philosophical Anthology, edited by Edia Connole and Gary Shipley (Schism, 2015), includes essays by Fred Botting, David Peak, Irina Gheorghe, Paul J. Ennis, Teresa Gillespie, Eugene Thacker, Nicola Masciandro, Hunter Hunt-Hendrix, and the editors, among several others.
Appropriately, Thacker continues his many explorations of philosophical pessimism herein. In "On the Road with Jack the Ripper," Ennis argues that the urban design of East End London worked in Jack's favor. He extracts this theory using a brief report by FBI special agent John E. Douglas, early purveyor of profiling in the bureau.
In addition to almost thirty essays, there are also images courtesy of Jesuve, Heather Masciandaro, and Teresa Gillespie, verse from Yuu Seki and Daemous Monsmoarnciensis, and text-art from Amy Ireland and Lendl Barcelos.
Like its subject matter, Serial Killing is a dark work of deep trauma, as intriguing as it is off-putting.